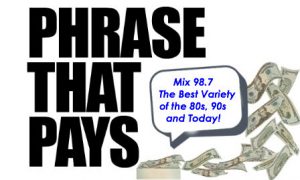 Mix 98.7 is calling random homes and workplaces all over the Jackson area and asking one simple question: "What's your favorite radio station?"
If we call you, just say the following PHRASE THAT PAYS and you'll win $500 in cash:
"MIX 98.7… THE BEST VARIETY OF THE 80'S, 90'S, AND TODAY"
If you say that exact phrase you win! It's just that simple.
---
PHRASE THAT PAYS WINNERS…
Mia Morgan from Byram
Jessica Cook from Florence
Sharon Hailey from Brandon
Kay Bowles from Florence
Janet French from Richland
Lisa Ferreri from Brandon
Barbara Sutbeck from Jackson
Kelsey Armstrong from Brandon
Larson Graham from Ridgeland
Johnnie Potter from Flowood
Jessie Graham from Brandon
Megan Walford from Pearl
---
Official rules for THE Mix 98.7 "Phrase That Pays" Contest.
Contest is open to residents of the Jackson, Ms., market area as defined by Nielsen and who are at least 18 years of age. Mix 98.7 employees will place telephone calls to telephone numbers in the Jackson, Ms., market as defined by Nielsen. Telephone numbers to be called will be selected at random from among various sources including but not limited to printed telephone directories (for example, the "White Pages") and listener databases proprietary to, or purchased by, WJKK/Mix 98.7.
When someone answers at the telephone number dialed, he or she will be asked "What's your favorite radio station?" To win, the person called must answer with the exact phrase "Mix 98.7…The Best Variety of the 80's, 90's, and Today". That exact phrase is the only acceptable winning answer. In the case of communication difficulties (whether technical or verbal, including but not limited to unintelligible responses) the decision of WJKK as to whether the phrase was pronounced accurately is final.
Winners will receive cash prizes in amounts to be determined and announced by WJKK/Mix 98.7. Winners must claim prizes in person, at WJKK/Mix 98.7 studios at 265 Highpoint Drive in Ridgeland, Ms. during regular business hours, within ten business days of winning, and must present photo identification verifying that winner is 18 or older. Cash prizes will be paid in check form.
Contest will begin February 2nd, 2017 and last until at least December 31st, 2017. Contest may be extended by WJKK/Mix 98.7 at its sole discretion.
WJKK/Mix 98.7 will place "Phrase that Pays" phone calls only between the hours of 7am and 7pm. WJKK/Mix 98.7 is not responsible for the actions of any other party claiming to represent WJKK/Mix 98.7. To be eligible to win, persons must be contacted on the telephone via a phone call originating from the WJKK/Mix 98.7 studios.
Employees of WJKK/Mix 98.7, other radio stations, or members of their households, are ineligible to win this contest.