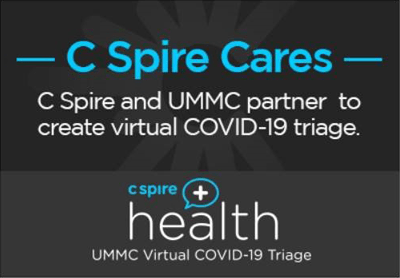 DRIVE THRU TESTING AT STATE FAIRGROUNDS
A drive-through testing center opens Tuesday, March 24th at the State Fairgrounds.
Here's important info you to know about that testing center:
Testing is ONLY for people with existing symptoms like severe cough, chest pain or fevers of 100.4 or higher.
If you have these symptoms you need to begin the triage process today (Monday, March 23) by downloading the free app in your app store called C Spire Health UMMC Virtual COVID-19 Triage
The app is available for screening from 8 a.m.-8 p.m., seven days a week.
Once you download the app and go through the screening process, you'll be assigned a time and ID number for testing at the fairgrounds which begins Tuesday, March 24th
OTHER TESTING SITES
There are several clinics in the Jackson Metro who offer testing free of charge but you MUST call ahead for screening before a testing appointment is made.
St. Dominic Hospital/MEA Old Canton Road
Call 601-957-3333
Jackson-Hinds Comprehensive Health Center sites
Call 601-362-5321
Bennie G. Thompson Health Facility: 514G E Woodrow Wilson Ave., Jackson
Central Mississippi Medical Center: 1850 Chadwick Drive, Jackson
Ethel James Ivory Homeless Clinic: 327 South Gallatin St., Jackson
Jackson Medical Mall: 350 Woodrow Wilson Ave., Jackson
Jackson Hinds South Clinic: 145 Raymond Road, Jackson
James Anderson Health Facility: 3502 W. Northside Drive, Jackson
Jackson Hinds Comprehensive Health Center: 100 Magnolia St., Edwards
Willie E. Simmons Clinic: 129 White Oak St., Utica
​​​​​​​Copiah Comprehensive Health Complex: 550 Caldwell Drive, Hazlehurst
Vicksburg Warren Family Health Care Clinic: 1203 Mission Park Dr., Vicksburg